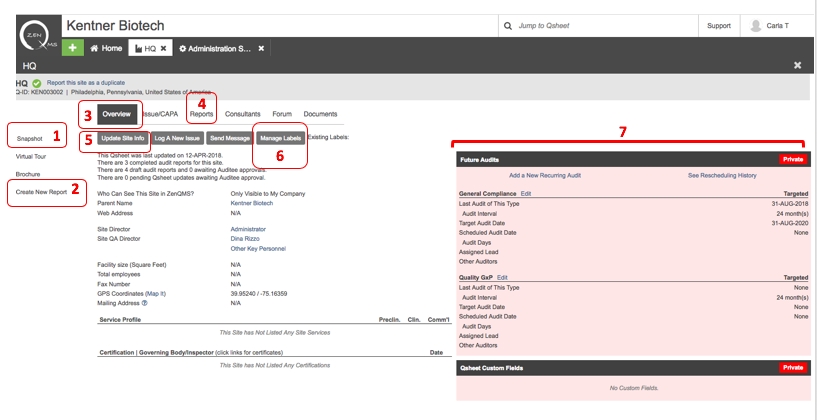 1. Snapshot - Shows you general information that is mostly public.  Clicking on blue hyperlinks will open up more information about that item. If you click on "Map It" link, an interactive map of the site, including satellite imagery will appear.  You can also include any site certifications, they will appear in a table and you download a PDF copy of whatever certificate or supporting documentation the site has uploaded for that item.  
2. Create New Report - This is where you would click to create a new Audit report
3. Overview - Shows an overview of the Sites public information.
4. Reports - By clicking on Reports you will see a table view of all past audit reports your company has access to for this site.
5. Update Site Info - In order to update or add any information to the Qsheet, you will have to click on this button, make the changes and or additions and click save.  At this point it will then have to go to a ZenQMS Admin to accept the changes made so that they appear in the Qsheet.
6. Manage Labels - We use 'Labels' as a way for users to privately label and organize sites (e.g. API Companies"). Labels can be assigned in the Watchlist, Qsheet, and Search screens, and can be used in the Analytics sections as well. Users can create/assign multiple labels to a site and administrators can created master lists for the organization. 
7. Future Audits/Qsheet Custom Fields - This shows the information for upcoming recurring audits.  You can also create a new recurring audit, make changes to an existing and see the rescheduling history of recurring audits.