In order to update a Qsheet, you will do the following. Keep in mind that any ZenQMS user can submit a profile update for any Qsheet using the Update Site Info button. If the site's corporate owner has an active ZenQMS account, the site's default messaging contact will be notified of your update request and can accept/reject it. ZenQMS staff review and manage all requests for sites that are not active members and process them accordingly on a regular schedule.
1. Log into your ZenQMS account and navigate to a site's Qsheet using the Jump to Qsheet search box at the bottom of the page, type your company/site into the box. A selection will pop up and you will click on the site you are trying to update, You will then be taken to the selected site's Qsheet Overview/Snapshot page.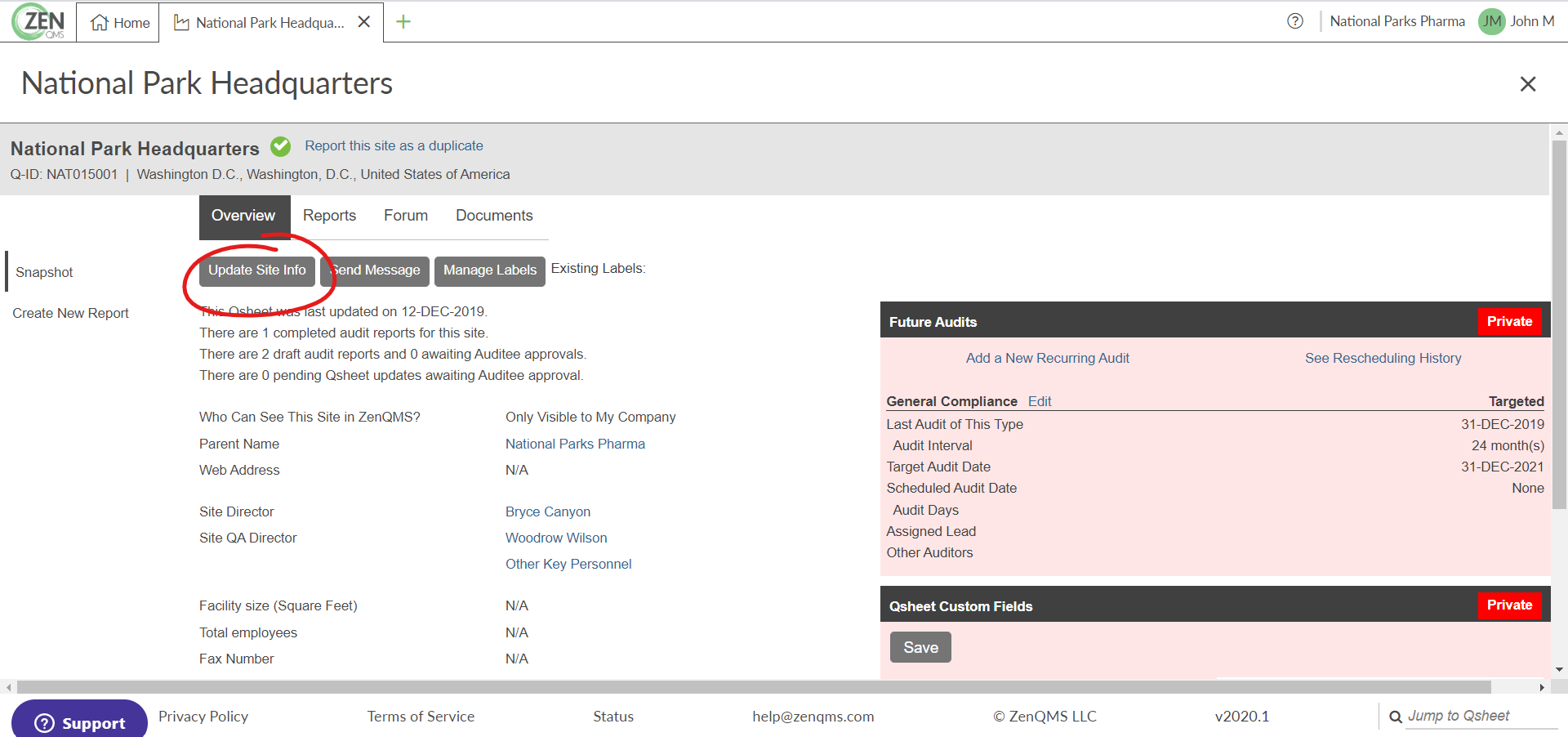 2. Click on the "Update Site Info" button at the top of the profile. In the window that opens, you will see a form that has all the current information for the selected site. You can make any changes you see fit, including a comments section. Then click the "Submit" button at bottom right of the window (note you may have to scroll down to the bottom).
3. Your request will be immediately submitted for review by either the site's owners and the ZenQMS Staff and processed accordingly. Note, your submission will be stored until it is acted upon—so if you click the "Update Site Info" button again before your update request has been approved/rejected, the window will note that you have a pending request in the system and the window fields will reflect your existing request.
*Important Note: If you need an update to be processed immediately –or– have noticed a request has not been acted upon within a few days, please log a support ticket noting the site name or Site Q-ID and we will remedy the situation immediately.