OJT is a new kind of event type that behaves more like a document, because it can be set to recurring training intervals and it can be assigned to a course. OJT events differ from Group or Personal events in one key way, in that they don't need to be formally approved to be assigned/used.
The other critical point about OJT Events is that users don't sign for these. OJT compliance is set by a trainer (who owns the OJT Event) or someone with right permission, who can select the attendee for an OJT event and mark them compliant.
PERMISSIONS
In order to create an OJT event you must have the correct permission, which is given in the group permission table. To access this table you would:
Log into your ZenQMS account, click on your last name in the upper righthand corner, and select Profile from the drop down.
You would then click on "Member Account" on the lefthand side, then select "Users"
Once you are in the "Users" table, you will click on , and select the group that you would like these permissions added to or create a new group.
The first permission that is needed would be "Can Add New OJT Events".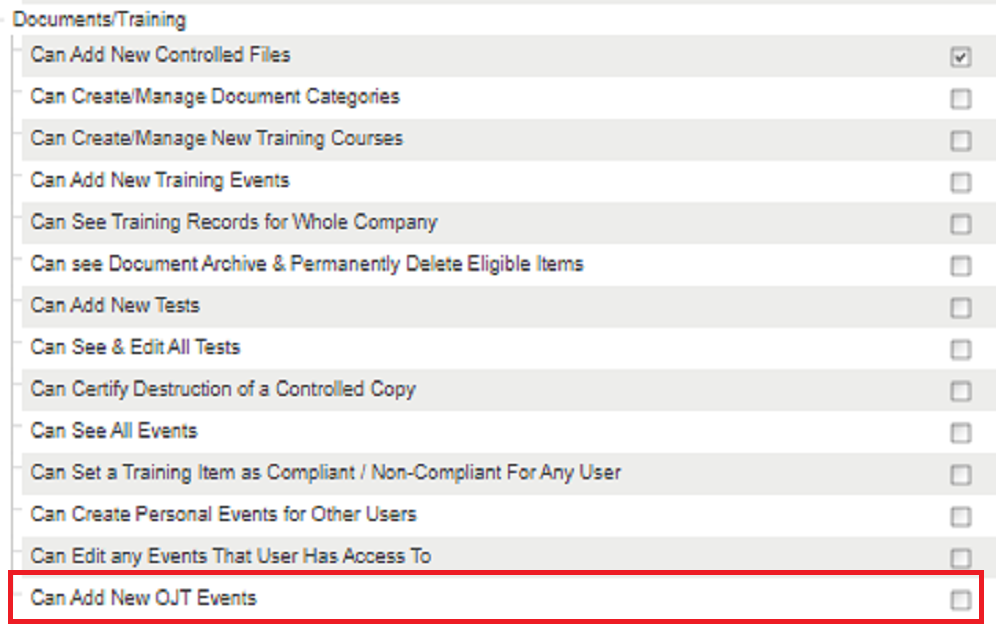 As mentioned above, users who attend this event do not e-sign themselves that they have attended, this will be done by an instructor or a person who has the right permission to mark them as compliant. This permission is also found in the group permissions table. If this is an event that they do not have edit access to, they will not be able to mark anyone as compliant.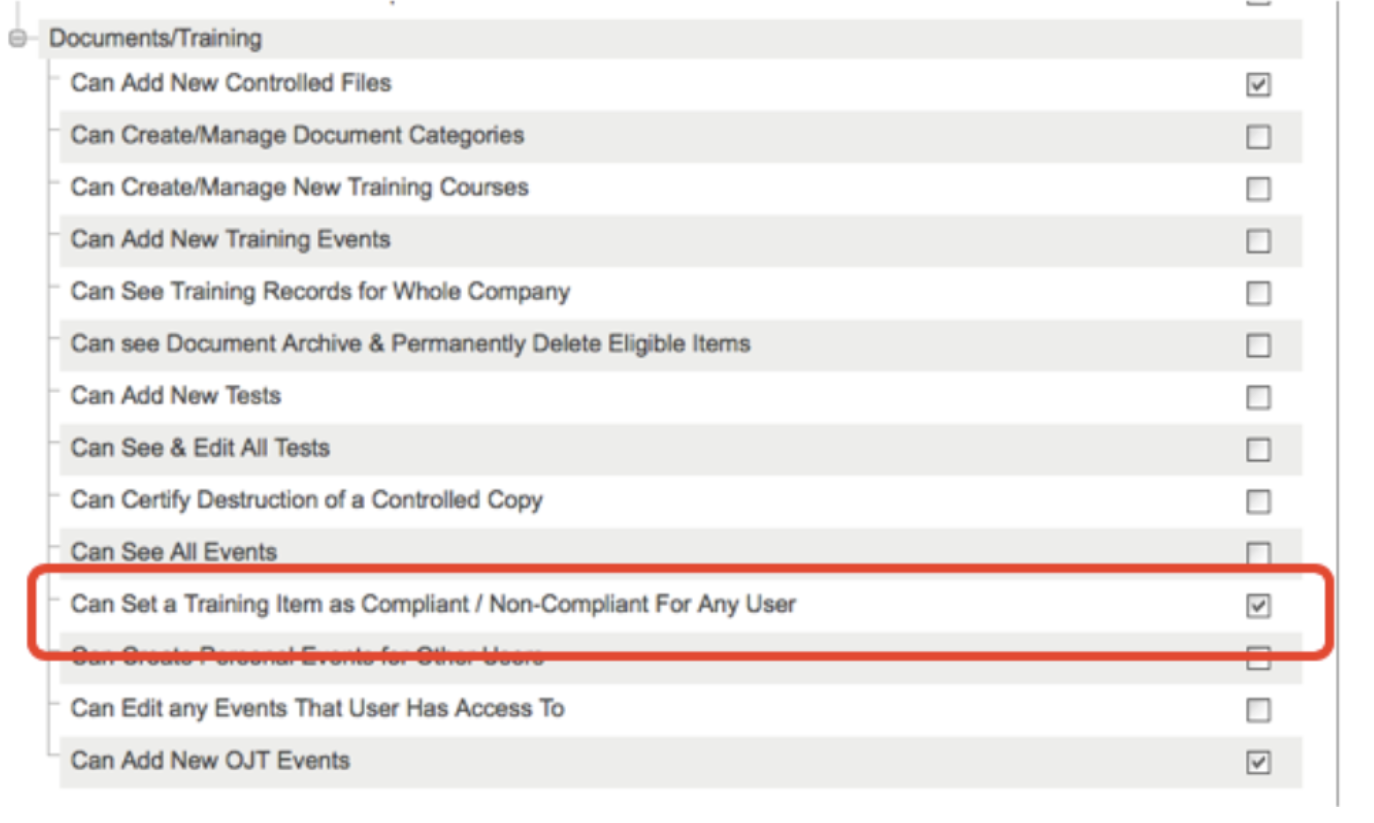 ADDING AN OJT EVENT
1. Log into your ZenQMS account, and click on the Training module tab, select the Training: Events from the "My Training Dashboard" drop down.
2. If you have successfully been given the correct permission to add an OJT Training Event you will see

, click on the button and choose a Topic name for the event and click on 'Create' button. The application will open a new tab with the content and settings for the new OJT event.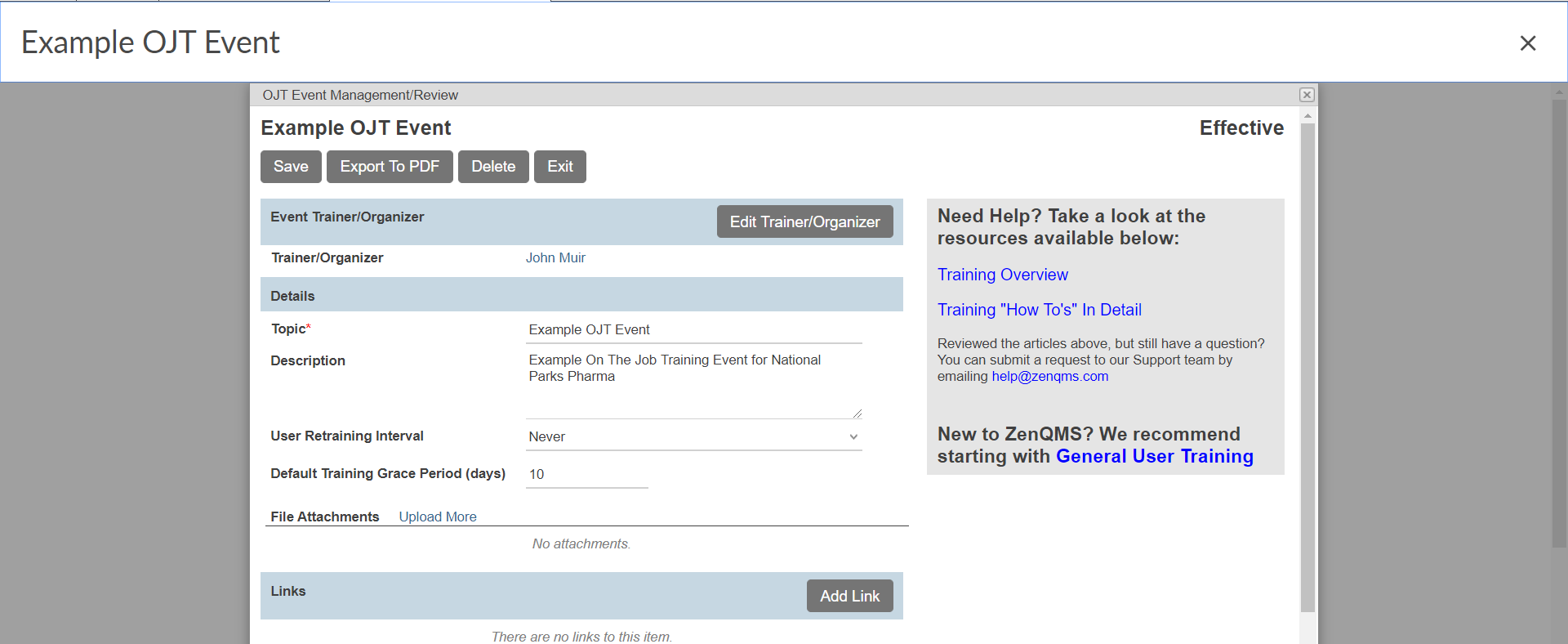 3. Click on the Manage Assigned Trainees button to assign the Users who will need to complete this training. You will be able to make it a recurring event as well as set Grace Period days.
4. Once the event/training has been completed and the user attended, you can mark them as compliant by
Opening the event and from the Events full table view and clicking on the Manage Assigned Trainees button.
Select the users who competed the training using the check boxes.
Click on the "Group Actions" tab and click on .

You will then be asked to execute a e-signature to sign-off on this action. This is the signature that is appended to the audit trail and the user's training certificate.