In order to enable account back-up you will need to subscribe to the ZenQMS Premium Support Plan. If you would like to upgrade to a Premium Support Plan or get a quote, please email help@zenqms.com.
PERMISSION = "Member Administration/Configuration"
1. Log into ZenQMS
2. Click on your name in the upper righthand corner and choose "Profile" from the dropdown
3. Click "Member Account" on the lefthand side
4. On the General Preferences tab, scroll down to the section titled "Account Backup"
5. Click

* If you receive the message below and already pay for ZenQMS Premium Support, please email help@zenqms.com

6. Set the Backup Frequency
7. Select a designated user to receive the Email Notification that the backup is complete
8. Make sure to click

after you finish updating these settings
9. (optional) You can request an immediate backup by clicking

What's in the Backup?
The backup function creates a downloadable zip file organized by folder for all core modules that includes:
PDF formats of the latest docs or exports of selected items (e.g. audits, issues, CAPAs, dossiers)
CSV exports of most data fields from these tables as you would see them in the application.
PLEASE NOTE - currently, the backup does NOT include courses, events, and users tables
The designated user will be notified when a backup is concluded. They can then log in and click the most recent back up to download the ZIP file (see below).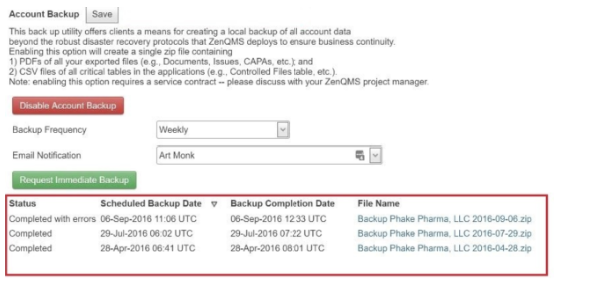 Here is an example of the folder unzipped: