There may be a time during your Issue life cycle that you may need to link a document or event to your Issue for reference. You are able to link items from within ZenQMS to your Issue. The Issue Details and Stages allow you an option to link items in each of those sections. You are able to link items from each module to your Issue: Documents, Courses, Events, Tests, Issues, Audits, Observations, Change Control, and Tasks. It is important to note, your group and permission settings determines your visibility to what items in the modules you may link. Meaning, if you do not have permissions to interact with Documents or Audits, items in those modules will not be available in the Link drop down menu for selecting to link.
1) Log into ZenQMS, click on the Issues tab on the left
2) Select the Issue you would like to interact with by selecting the link key listed under "Key" in the Issues table
3) To link and item, select

4) Select the module you would like to link an item from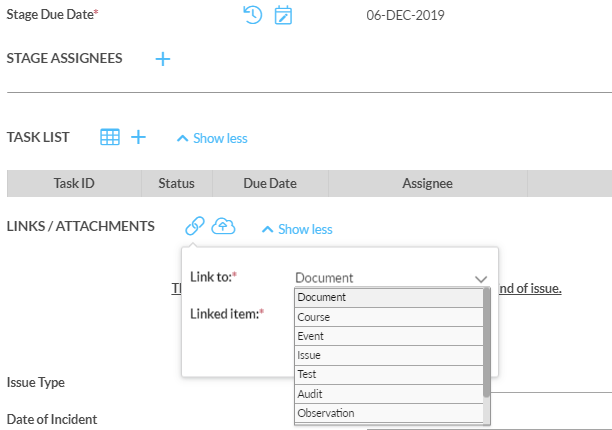 You will have the ability to link anything you have permissions to interact with. This includes archived documents.