This article will provide you with a high level view of the process of creating and configuring an Issue Category.
Log into your ZenQMS account and click on the

Settings tab on the left side of the screen. Click on the

option from the list on the left side. Click on

to create a new Issue Category.
1. General Settings -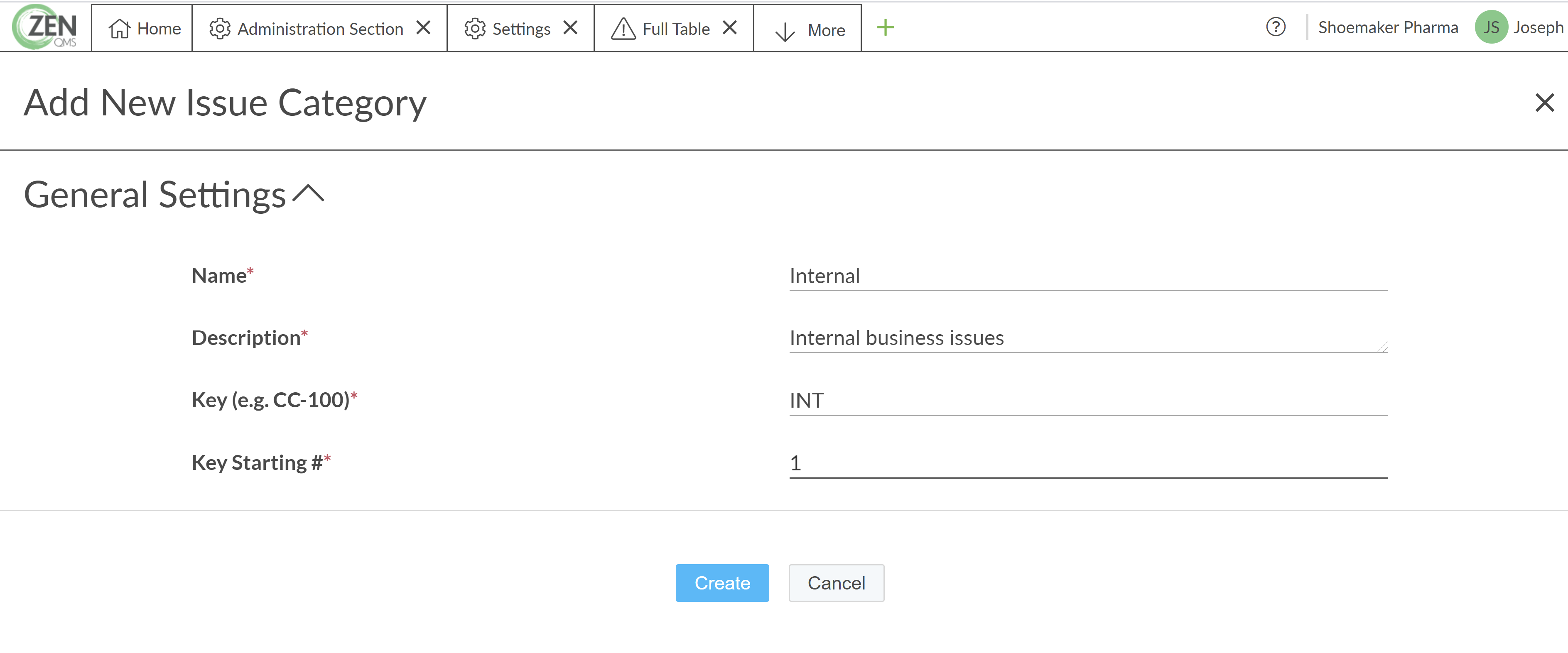 Name: input the name of your new Issue Category
Description: provide a brief description
Key: this allows you to choose your own unique prefix for the Issue you are creating, ex: INT, ISS
Key Starting #: the number the Issue will be assigned for this category, ex: INT-14, INT-15, etc.
Click on

2. General Settings - Part 2
PDF Export Options: Here you can choose how you want the PDF export of the Issue Category to look like and include.
Roles/Permissions: Here you can select the Roles(Users/Groups) you would like to assign to the Issue Category. This gives the users/groups certain actions and visibility within this Issue Category and within the Issue itself: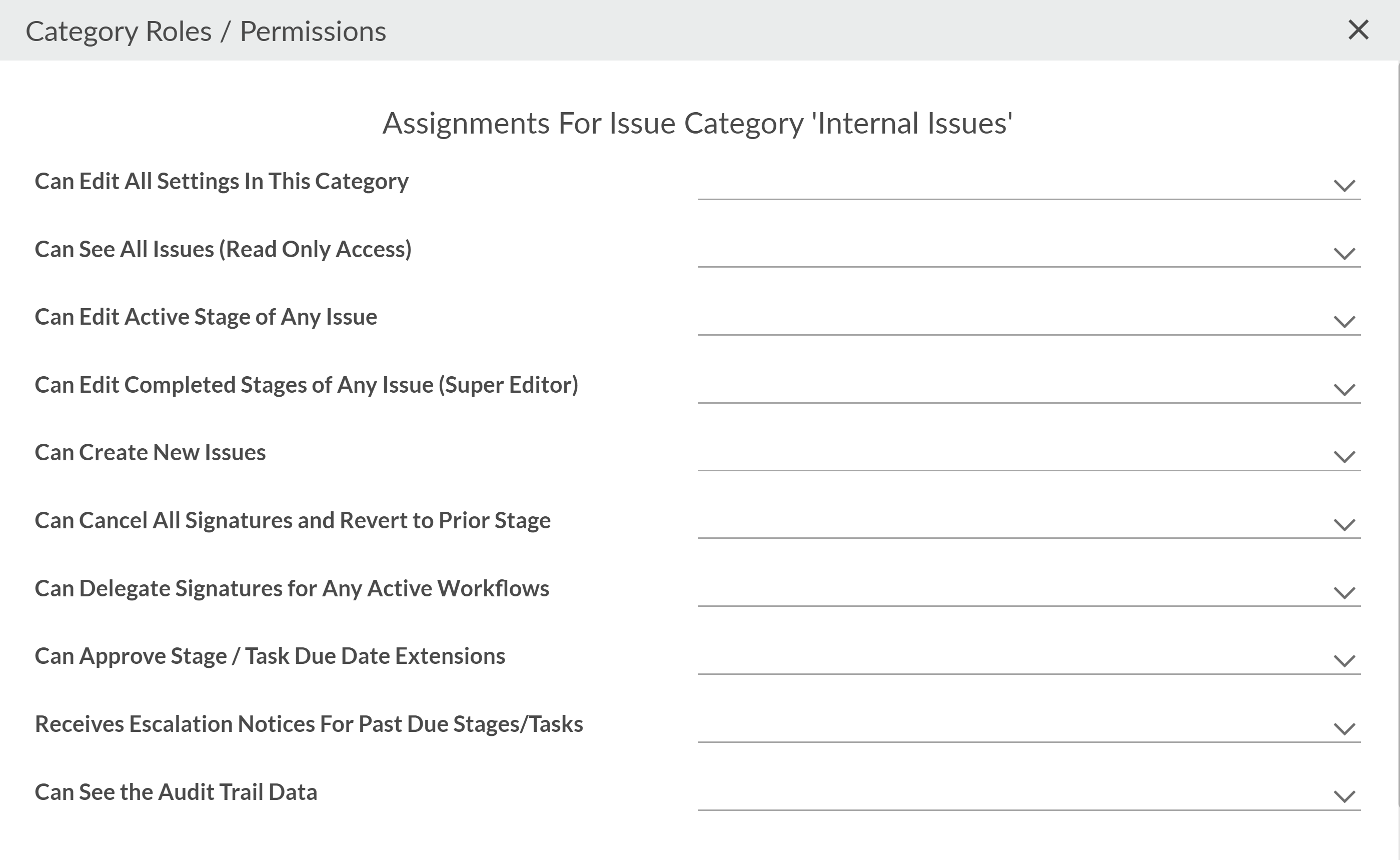 Stages & Transitions: Here you will name and define each stage of your Issue and the workflow that must be completed prior to moving onto the next stage. You can have as many stages as you want and multiple transition options per stage. DO NOT CIRCLE BACK/LINK BACK TO A PREVIOUS STAGE (e.g. Stage 1 > Stage 2 > Stage 4 > back to Stage 2). If you need to create repetitive loops, you will need to define a separate stage (e.g. Stage 1 > Stage 2 > Stage 4 > Stage 2 with an additional qualifier, Stage 2 Second Pass).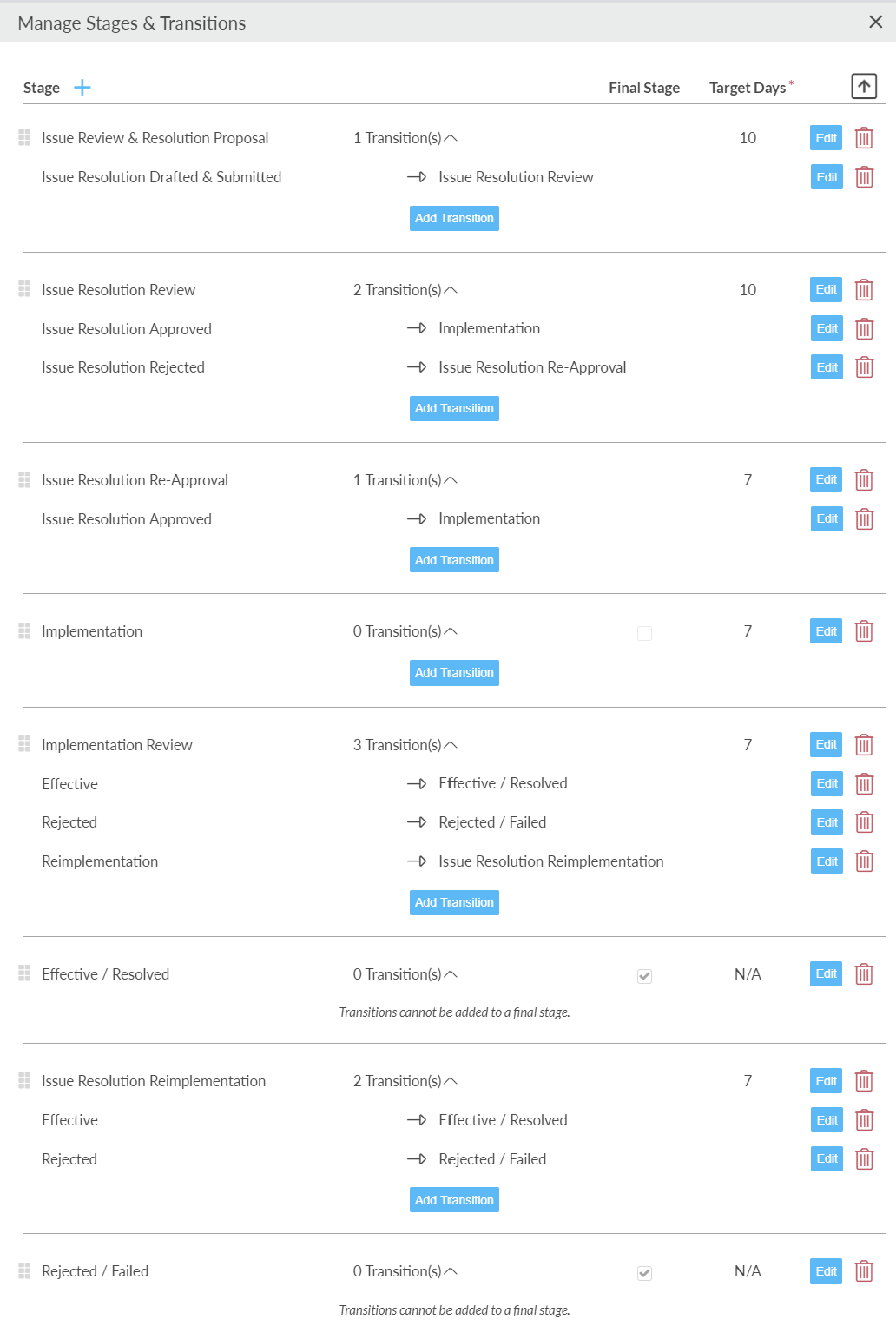 Actions You Can Take: What you see depends on your permission.
- When the Issue is still in draft you will see

or

. When you have completed configuring your Issue Category, you select

to enable the new category.
- When a category is Active and in use you will see

or

***Issue categories are version controlled and cannot be deleted.
3. Stage Configuration - Adding Fields
Once you have created your stages and transitions, you can then add Custom Fields to each stage. You will have 3 types of fields that you can add:

4. Stage Configuration - Manage Stage Assignees/Signatures
***You have to choose stage assignees and add at least 1 Signature in order to move to the next stage
Stage Assignees are notified when a stage is launched and ready for completion or when the user needs to complete workflows for the active stage. Each stage must have at least one assignee. Stage owners are chosen from the list of authorized individuals or groups. You will also decide what users signatures are required to move onto the next stage or who needs to be notified that the stage has been completed.
- You can add as many signatures/view notifications that you want
- You can choose the order in which they are sent. Or you can choose to have them all sent at once by making the number the same
- You can choose whether they can be delegated and/or if a comment is required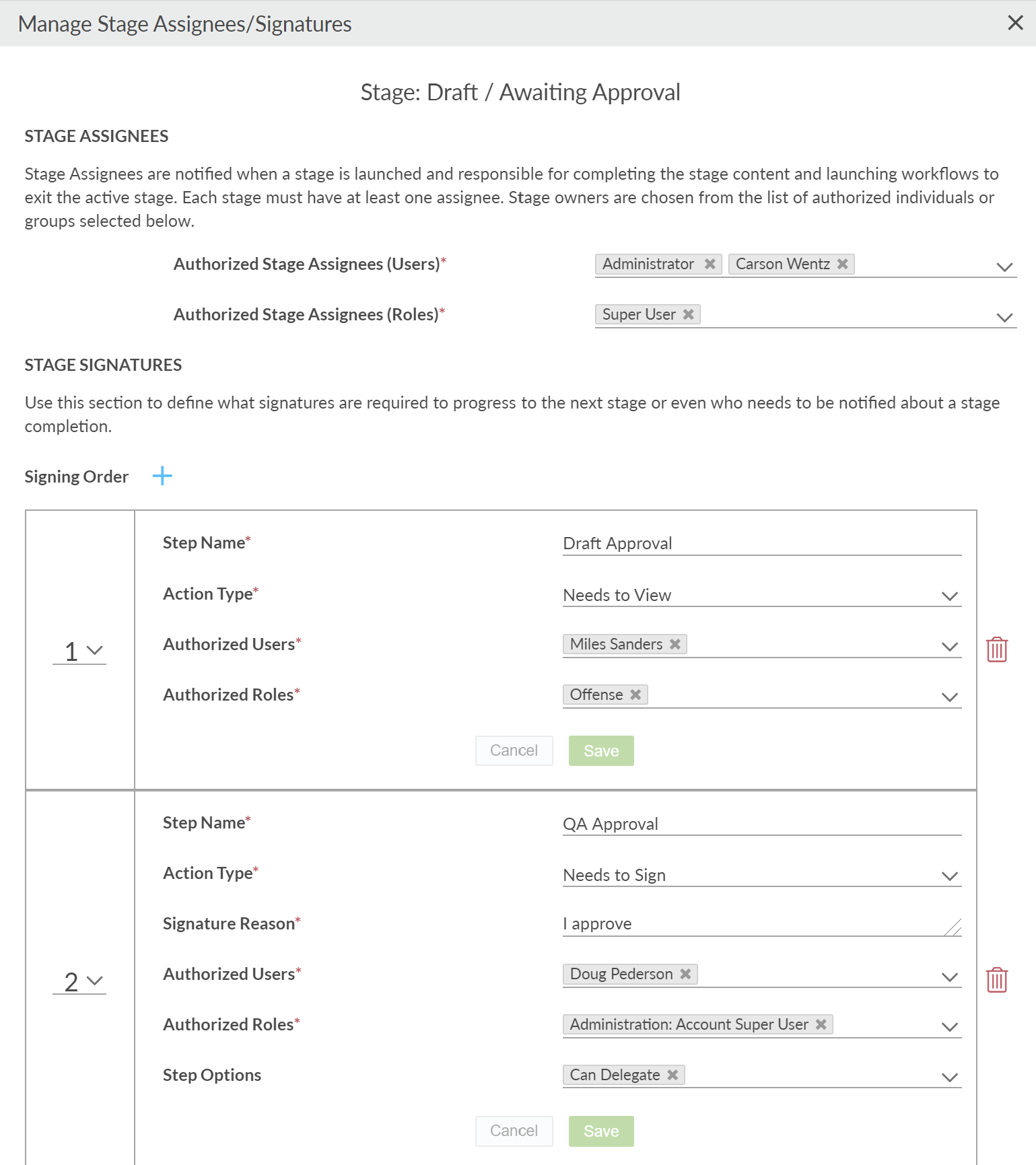 5. Once your Issue category is fully configured, you can then click on