This article provides details on the available permissions that can be assigned in a Change Control Category. This is a tab that you must configure when creating a CC category and listed under the "General Settings" section.

When you click on the

button a window will appear on the right sides, that lists all possible permissions that can be assigned within a Change Control. Each permission is followed by a drop-down that will include all the roles that you have created in Change Control module settings. Each category's Roles/Permissions settings are specific to the specific category and do not carry over to other Change Control Categories.
Create the roles used in Change Control categories here:
Creating & Managing Account Roles & Permissions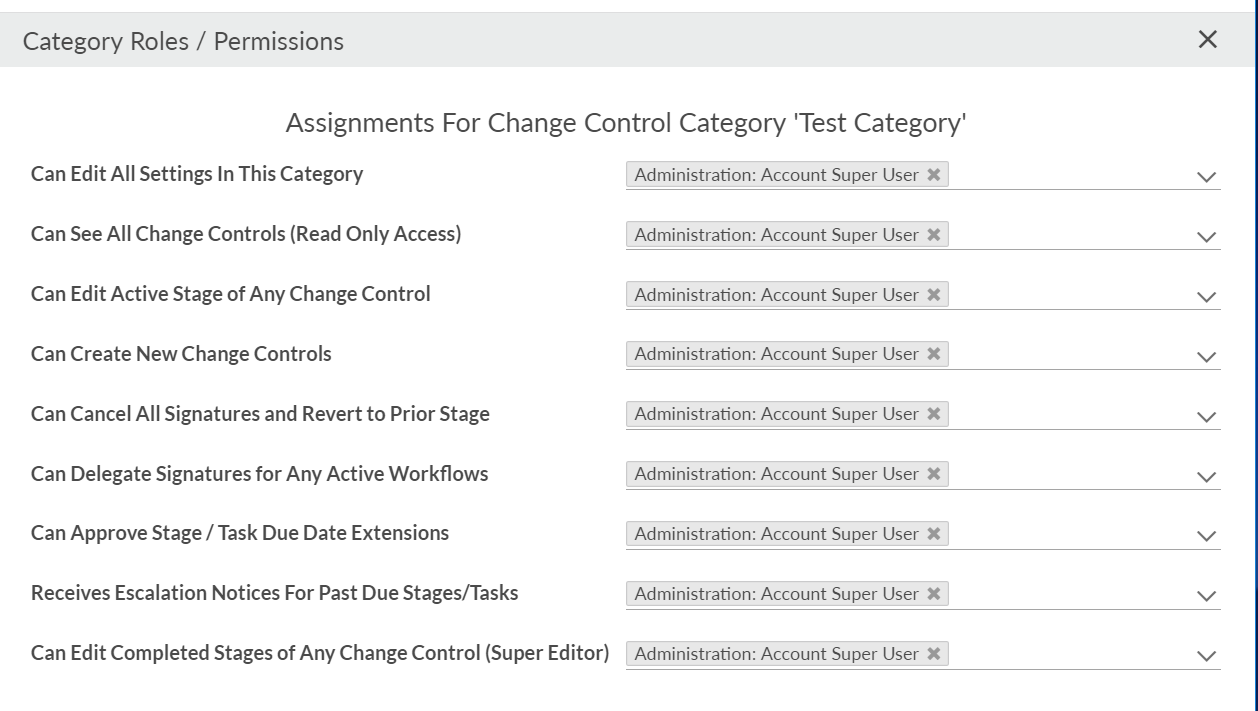 Can Edit All Settings In This Category - a user can edit any settings particular to the specific category. The user will have permissions to edit this specific category's settings.
Can See All Change Controls (Read Only Access) - a user can see all Change Controls under the specific category, but it is read only and will not have any edit capabilities. They will only have edit capabilities if they are assigned as a stage or project assignee to a change control using the specific category.
Can Edit Active Stage of Any Change Control - a user will be able to edit any active stage in a change control that falls under this category. This is a high-level permission that should be reserved for Super Users, Admins, QA, etc.
Can Create New Change Controls - a user will be able to create new Change Controls under the specific category. Simply, a user may create a new change control using this specific category configuration.
Can Cancel All Signatures and Revert to Prior Stage - user can revert to a previous stage which will cancel any completed workflows/signatures. When a stage is completed and workflow launched, there will be an option link named "Cancel workflows and revert to this phase". This allows the workflow and signatures to be cancelled and the stage to be reopened for editing. You may then relaunch the approval workflow again after editing.
Can Delegate Signatures for Any Active Workflows - a user can delegate any workflow step to another user. (They do not have to be a supervisor). Users who are listed as supervisors of other users may delegate a workflow signature of their direct reports. This permission allows these users the same capability to delegate a workflow signature in the event a user is unavailable to complete a review and signature.
Can Approve Stage / Task Due Date Extensions - if a Change Control/Stage needs a due date extension, this permission allows a user to approve the extension request. Each stage and task have assigned due dates for when they need to be completed. This permission allows these users to review and approve these requests.
Receives Escalation Notices For Past Due Stages/Tasks - a user with this permission will be notified if any stage or task becomes past due. Currently, only Project Assignees and Stage Assignees will receive a notification when stages or tasks go past due. Anyone with this permission will also get notifications if stages or tasks go past due in this category.
Can Edit Completed Stages of Any Change Control (Super Editor) - this user has full edit capabilities, we urge you to assign this sparingly and to super users, admins, or QA types of roles.
You can assign as many roles as you would like to each permission for a change control category.