PERMISSION NEEDED: "Can Add New Tests"
1. Log into ZenQMS
2. Click on the Training Module on the left hand side
3. From the "My Training Dashboard" drop down, select "Training: Tests":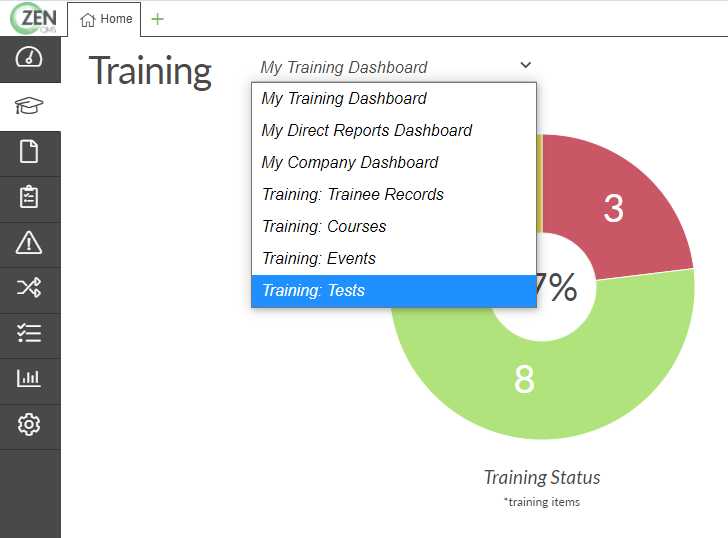 4. Click on

. You will be prompted to add the name of the test. Click "Create"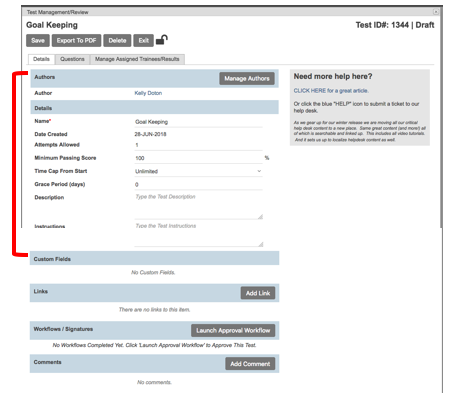 5. Authors: Click "Manage Authors" to add/remove up to 3 test authors by selecting from the dropdown
6. "Details":
Attempts Allowed: Number of attempts allowed to pass the test
Minimum Passing Score: Entry must be 0%-100%
Time Cap From Start: Time allowance to complete the test (0.5 – 12 hours)
Grace Period (Days): Number of days to complete the test.
Description: Describe your test in a few words
Instructions: Enter any additional information/instructions
7. Links: Click "Add Link" to link another item in your ZenQMS account that you have access to
8. Workflows/Signatures: Click the "Launch Approval Workflow" button to make the test effective.
Adding & Importing Questions
1.To add Questions individually: go to the "Questions" tab, click

, type in your question, select the answer type, and click "Save". Repeat as necessary.
2. To add multiple Questions at once: go to the "Questions" tab, click

. You can download a template by clicking on the "Click Here" hyperlink and upload it in the same place
The table allows you to manage the order of the questions (when in draft mode) and also see the cumulative pass rate for each question.