A user with the correct permissions has the ability to create a new test and can easily add questions by importing them with a template that is provided.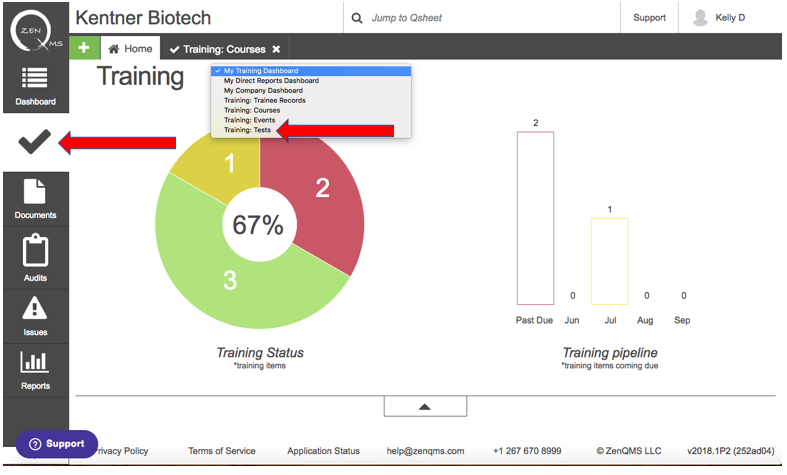 l. Click on ZenQMS
2. Click on the Training tab, select "Training: Tests" from the drop down
3. Click on 

, you will be prompted to add the name of the test, then click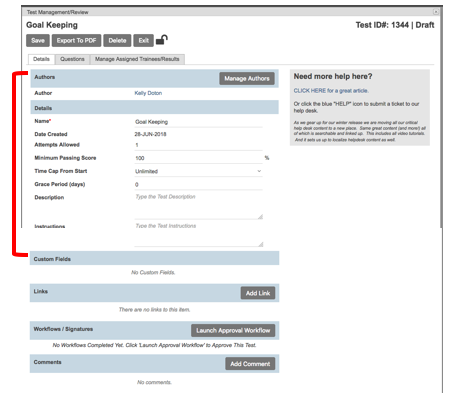 4. Authors: Click 

 to add/remove up to 3 test authors. Select the names from the dropdown and click 

5. Details:
Attempts: Number of attempts allowed to pass the test

Minimum Passing Score: *entry must be 0-100

Time Cap: Time allowance to complete the test (0.5 – 12 hours)

Grace Period: Number of days to complete the test.

Description: Describe your test in a few words

Instructions: Enter any additional information/instructions  
6. Links: Click 

 to look up and link to most any other item in your ZenQMS account that you have access to
7. Workflow: Workflows Section: Click the 

 button to make the test effective.
Adding & Importing Questions
1.To add Questions individually, click 

, type in your question, select the answer type and click 

. Repeat as necessary.
2. To add multiple Questions at once, click 

. You can download a template and upload it in the same place
*The table allows you to manage the order of the questions (when in draft mode) and also see the cumulative pass rate for each question.