PERMISSION NEEDED: "Can Add New Training Events"
1. Log into ZenQMS
2. Click on the Training Module on the left hand side.
3. Click on the dropdown labeled "My Training Dashboard" and select "Training: Events":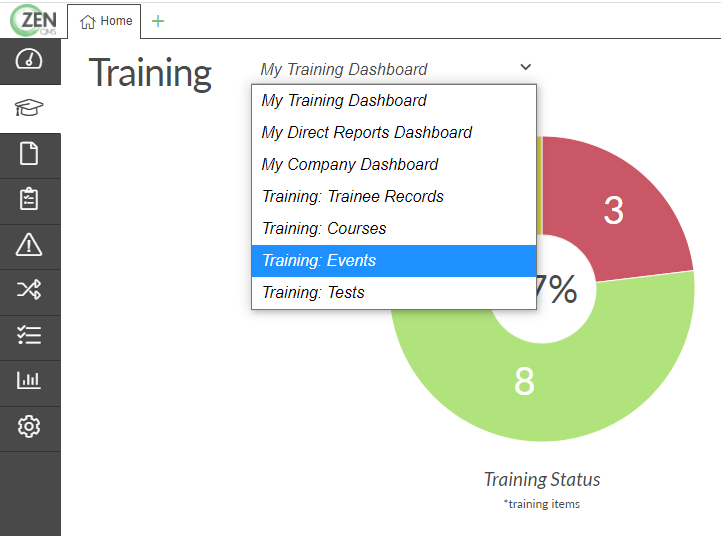 4. Click on

, create a Topic for the event, and fill in the date of the event. Click "Create"
5. The Event Management/Review window will open, fill in the required fields
6. You can upload attachments by clicking on the "Upload More" hyperlink or link an existing item that is in the app by clicking on "Add Link"
7. Before you can Manage Invited Users/Groups, you will have to launch the workflow so it becomes effective. This is done by clicking on "Launch Approval Workflow"
NOTE: No changes to the event can be made once the event is effective.
8. When you click on "Launch Approval Workflow", a window will pop up that will allow you to add "Additional Steps" to the workflow. Once you are done, click on "Launch Workflow"
9. If you are the Organizer, a e-sign window will appear and you can immediately sign off on the approval, if not an alert will be send to the designated organizer as well as anyone else who was added in an "Additional Step"
10. Once approved, you will be able to go back into the event and add individual or group participants to the event, by clicking on the "Managed Assigned Trainees"
11. On the date of the event, all invited users will receive a signature request to verify that they attended the event and it will be logged to their dossier.
NOTE: The application will now allow you to Force Selected Users to Retrain on Group Events.